Nearly 600,000 students come to study in the United Kingdom every year.
Why study in the UK?
You will have a great opportunity to lean new things. What you learn here will be very helpful in your further career.
There are numerous universities to choose from, but each of these has high standards of teaching. There are also many different types of courses and degree programs.
Most employers see British degrees as a great advantage, because students can also gain some practical experience while studying.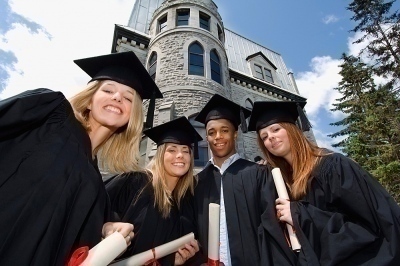 The United Kingdom is a multicultural place, and you will learn a lot about different customs, languages and lifestyles.
How to Study in the United Kingdom
First, you need to choose your study level.
Undergraduate students can attend bachelor's degree programs. These programs last for tree or four years. You will be able to get great education and some work experience as well.
Postgraduate courses such as MBAs, Master's degree, and PhDs will allow you to specialize in certain subjects. Research facilities and great tutors will help you with your studies.
How to Apply
You need to find the right course for you. Find out more about the requirements for the course you choose (there are different requirements for each course).
After choosing the course, contact the university. See if you qualify for the chosen course.
If you are an undergraduate student, you have to submit the undergraduate application. You will use the official application service known as  UCAS.
Postgraduate students can apply directly to the university they choose. You have to get more information on deadlines, because certain courses fill up quickly.
International Students
First, you will have to find out if you are eligible for a student visa. You can get a visa only if you are accepted by a university in the United Kingdom, but it will be wise to see if you are eligible before you start the application process.
You need to have at least forty points to apply for a visa.
– 30 points: you have to get a Confirmation of Acceptance from the university (Tier 4 sponsor).
– 10 points: you will have to prove you can pay your living costs (monthly) and your tuition fee.
Tuition fees  go from 4,000 £ to 22,000 £. Living costs are nearly 800 £ per month.
To get more information and see if you are  eligible for a visa, visit the  UK Border Agency  website.
Scholarships
Several organizations in the UK and the British Government provide different awards and  scholarships for international students.
You can contact the Ministry of Education in your own country to get more information on scholarships for students who want to study in the UK. The British Council is another place to visit and ask for some advice.
You should apply one year before the beginning of your course. Remember: even if you get a scholarship, you will still need money for every-day living.
Read  the list of UK universities.
To find out more about education in the United Kingdom, visit  Education UK  and  UK Study.