Higher education represents some serious challenges for expats. The language barrier limits educational options for most expats. Even if you are conversational in the language of the country where you live, you may have difficulties with the very specific meanings of technical terms. It requires considerable fluency to be able to fully understand all of the topics required for most degree programs. Another barrier some expats discover is getting accepted into a local college or university. Many institutions of higher learning are operated by governments and sometimes they do not even have procedures defined for foreign students to attend. Of course, that implies that there is a school with a relevant degree program near you. For expats in more rural or undeveloped areas, this may not be the case. Finally, once you find a school, enroll, complete the coursework, and receive your diploma — you many find that it has no value back in your home country. Many Cuban doctors have escaped to the United States only to discover that their degrees are not usable in the US.
Online Education
Online education has emerged in the last few years as a serious option for many students, and as a fantastic option for expats. Many reputable colleges and universities are now offering complete baccalaureate, masters, and doctoral programs over the Internet. The types of degrees were limited at first, but you can now earn a degree in almost any field online. Some schools require limited in-person visits for some degrees, while other programs can be completed without ever stepping food on campus.
Schools Offering Online Degrees
We will look at the top schools currently offering degrees online. Most schools only compete for students in their local geographic regions, which results in most schools not facing very many competitors. With limited competition, costs increase and quality decreases. Online schools are entirely different because an online school must compete with every other online school. Unlike the traditional geographically-based schools, there is no reason for a student to attend a second-rate online school.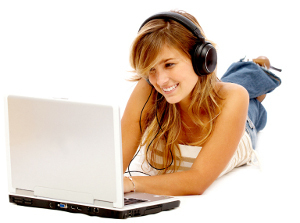 University of Maryland University College (UMUC)
The University of Maryland University College was founded in 1947 and is the largest public university in the United States. UMUC is one of eleven degree-granting institutions in the University System of Maryland. In addition to online learning, UMUC maintains more than twenty locations in Maryland, D.C. and Virginia with on-site classes and student services.
Western Governors University was founded in 1997 as a joint project by the governors of nineteen Western states. WGU is an online-only university with more than 38,000 students from all fifty states.
The University of Massachusetts
The University of Massachusetts created UMassOnline in 2001. UMassOnline students are UMass students and receive the same benefits as their on-campus peers. An online degree from UMass is the same degree earned from the University of Massachusetts.  The only difference is that with an online degree, you don't have to physically attend classes.
The University of Florida was founded in 1906 and is Florida's oldest university. UF is consistently ranked among the nation's top universities. It was ranked seventeenth in U.S. News & World Report "Top Public Universities" , third in Kiplinger's "Best Values in Public Colleges", and seventh in the Princeton Review of "Best Value Public Colleges".
Southern New Hampshire University Online
Southern New Hampshire University was founded in 1932. SNHU was the only university to make Fast Company's 2012 list of the World's 50 Most Innovative Companies, which also included such companies as Apple, Google, HBO and LinkedIn. SNHU has a total enrollment of more than 13,000 students in more than 150 undergraduate and graduate degree and certificate programs, available both online and at their campuses in New Hampshire and Maine.
Arizona State University is ranked seventy-ninth in the world by the Academic Ranking of World Universities. ASU also ranked 26th among all public U.S. universities and 46th among all universities in the United States. For six consecutive years, U.S. News & World Report has ranked ASU in the top tier of national universities. ASU is ranked 139th among the more than fifteen hundred colleges and universities reviewed. ASU is also named one of the top "2013 Up-and-Comers" among national universities in the "2013 Best Colleges" guidebook.
Sam Houston State University Online
Sam Houston State University was founded in 1879 and offers more than eighty undergraduate degrees, over fifty graduate degrees, and six doctoral degrees. More than twenty of those degree programs are offered online through San Houston State University Online (SHSUO).  SHSU was named by US News and World Report as among the Best Online Graduate Computer Information Technology Programs. SHSU was also recognized by the Princeton Review as one of the "Best in the West" universities. The Princeton Review and PC Magazine named Sam Houston State University one of the  "Most Wired" colleges in the nation.
Comparing Online Schools
Before investing your time and money earning a degree, you should compare these online schools to ensure that you are making the right choice for you. This should involve researching the schools faculty, accreditations, and reputation among prospective employers. It should also involve researching the total costs, including specific information on what credits you may be able to transfer in and what courses you may be able to test out of. You should also search on the web and the social networking sites to find out what current and past students are saying about any school you are considering attending.