Air travel can be stressful but there are a few Air travel tips you can incorporate into the process simpler. With the numerous restrictions that have been put in place for passengers these tips will help to take some of the stress out of traveling
Early flight Booking
Try to book a flight well in advance of your trip. Most airlines will offer the best deals well in advance of a flight date with prices increasing the closer it is to take off. Online booking has made finding affordable tickets very simple, but it is important not to buy the first available seat. If there are a number of airlines that service a particular destination, be sure to visit each of them and check the prices for comparison.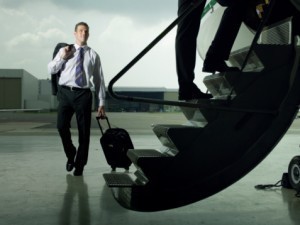 Also note that travel on weekends tends to be more expensive, so most booking sites will offer the option of seeing prices for a up to one week before and after the day that has been selected for travel. If travel dates are flexible, be sure to use this option.
Packing and Luggage Tips
The most important thing to remember is to pack light. Most airlines now charge for checked baggage and a few for carry-on bags. All airlines charge for overweight luggage. Weight restrictions, sizes and dimensions allowed for luggage may also change from time to time. To prevent a hold up at the airport, visit the website for the airline you plan to travel on and make a note of all of these. Wherever possible, be sure that packed luggage does not exceed weight limits.
When packing for long or international flights, be sure that hand luggage has the following necessities:
A change of clothes
Toothbrush
Toothpaste
Getting to the airport
Be sure that transportation to the airport is arranged. It is recommended that travellers arrive at the airport three hours in advance for international travel and two hours for domestic flights.
Be prepared for delays
Bad weather, mechanical problems or even booking errors can cause delays at the airport. Always be prepared for these. Take along a good book, crossword puzzle or other form of entertainment. Have cash on hand for food and be sure that children have a few toys and snacks to keep them entertained.