We had visitors from the U.S. and India recently and we decided to try the fishing here in Singapore.  The first thing we discovered was how difficult it was to find a charter boat with a fishing guide here in Singapore.  It seems that not a lot of people are providing that service here.  Yachts seem to be more popular here and fishing seems to be more popular in Malaysia.
I didn't have any interest in driving 3-4 hours to the fishing dock in Malaysia.  Ashwin didn't want to deal with trying to arrange a Malaysian visa on short notice. In addition, we didn't have time for two or three days of fishing.  We definitely had a day trip in mind. We decided to stay in the local waters.  Unfortunately, this meant that we wouldn't be able to try for larger fish like sailfish.  The local fishing is for bottom-feeders like grouper, snapper, and parrot fish.  Luckily, these are all good eating.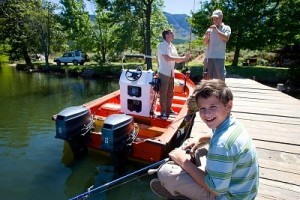 We found Fishing Affairs online and Augustine set us up for a charter on Friday morning.  At 8am we met at the McDonalds car park on the West Coast Highway at 8am.  We walked down to the dinghy and it took us to the boat which was just offshore.
The boat was a classic local design.  It was all wood with a full-length cover to protect us from the sun. The cover was low by American standards — we're just a bit taller than the locals.  The deck chairs were very short, which seemed strange at first but worked well in practice. The boat was equipped with a fish finder, but the captain chose the fishing spots mainly from memory.
Augustine fit fishing pole holders into each side of the boat.  We didn't use them much, as we were anxious to feel the fish biting, but my pole did catch one parrot fish while I was making a sandwich.
The morning was nice and cool and we caught some very nice fish.  We put them all on ice for cleaning and cooking later.  We were using large shrimp as bait and we only had to throw back one fish for being too small.  The Sun came out in the afternoon and I was very glad that the boat had a full cover — even with the cover I managed to pick up a bit of a sun burn.
HappyCruise is another company that offers fishing charters in Singapore, but we have not tried them yet.  Augustine at FishingAffairs did a great job of organizing and managing our trip, so we will call him next time we want to go out.