The French Riviera is one of the most famous tourist destinations in the world. This beautiful coastline is visited by millions of travelers every year. The coastline covers more than 550 miles. It consists of both shingle and sand beaches. There are several public free-entry beaches, but these beaches are usually crowded. Private beaches have to be booked in advance, and the prices are quite high.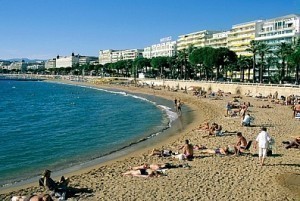 The French Riviera used to be a winter resort for wealthy people from Great Britain. In the nineteenth century, it became a popular vacation spot of Russian and British aristocrats. King Edward VII and Queen Victoria used to come here. In the twentieth century, many famous people (writers and artists) were frequent visitors; Aldous Huxley, Henri Matisse, Pablo Picasso, Somerset Maugham, and Edit Wharton were some of the famous people who loved the Riviera. Today, it is still one of the most popular destinations for celebrities. Brigitte Bardot and Elton John have houses there.
Nice is the largest city, with a population of nearly 350,000. It is the center of Nice-Côte d'Azur. One of the busiest airports in France is located here. The Mandelieu airport used to be a commercial airport, but now it is used by private aircrafts.
The French Riviera contains Beaulieu-sur-Mer, Villefranche-sur-Mer, Saint-Raphaël, Saint-Jean-Cap-Ferrat, Saint-Tropez, Sainte Maxime Juan-les-Pins, Cap-d'Ail, Antibes, Cannes, and Fréjus. It also has several marinas.
Public beaches
• Cannes has a beautiful public beach with numerous restaurants and cafes. Young people love summer parties at these bars.
• Antibes beach is usually very crowded. It is small, and there are many visitors every day. However, the good thing is that there are artificial breakwaters, so children can swim safely.
• Nice and Menton are beautiful pebble beaches. However, these beaches are very crowded.
• Juan les Puns is a sandy beach, and the good thing about this beach is that it's not as crowded as other public beaches. The restaurants are not too expensive.
• Villeneuve Loubet is a nice and quiet beach, not too crowded, and very comfy. It is located on the edge of a busy road, and this is why it's not crowded.
Private Beaches
Private beaches are very expensive. There are many private beaches, and not all of them have the same prices. Most beaches charge 10 dollars per day, but that is not all you'll have to pay. Drink service is very expensive, so you will need a bit more than 10 dollars to spend a day at some of these beaches.