Learn More about Different Companies and Keep up with of the Latest News
To make sure that the company of your choice is legal, contact the Registration Agency and see if the company really exists. The company must be licensed! If you are going to pursue a career here, you must keep up with the latest news about this field. You will see that some companies have better reputation than others do.
Is this job suitable for you? This does not only refer to your educational background or experience. It also refers to your physical condition. If you have years of experience, this probably will not be a problem. Nevertheless, it is still a good idea to have a medical checkup done before you start looking for a job. Aside from physical stamina, good eyesight is also an essential requirement.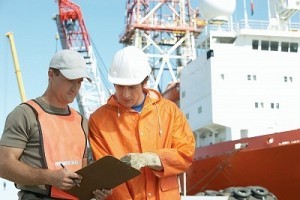 You have to prepare all relevant papers required for a job application. If you get the job, you will be traveling to various places, and you will need to have these documents with you at all times.
Typically, these issues will be handled by the management, but it is always better to be prepared.
Once you have everything ready, you can start searching the web.
Specialized websites like  Ship Talk Jobs and Supply Vessel can help you find different supply ship jobs for expats.
The Best Job Opportunities
Captain
The responsibilities of the captain include:
• running the vessels
• controlling other personnel onboard
• ensuring that the rules and regulations are followed by crew members
• making certain that the machinery is in order
• keeping records and supervising the unloading of cargo
Other positions on the ship include deck officers or mates. These are the captain's assistants. Their number depends on the ship. Together with the captain, they coordinate the actions of everyone on the vessel. You can also work as a vessel engineer or marine oiler. Deckmen or seamen take care of the "non-technical" issues on the vessel. These include taking care of lifeboats, watching for other boats, etc.
The salary will vary depending on the company and your duties. Larger vessels can offer higher salaries. Captains have the highest salaries, but other job positions can offer good salaries, like engineers, for example.
Working on a ship is certainly exciting. It is not without difficulties but it presents a lucrative career path.